WELCOME!
WELCOME to First Presbyterian Church (U.S.A.) of Richmond, Kentucky. We strive to embrace the inclusive love of God, to affirm the worth of all persons as children of God, and to model our love for each other after the mission and message of Jesus Christ. As the body of Christ, we put hands and feet on God's love by being committed to local and global missions, and we seek spiritual maturity through education and service. We see every member as a minister; we are intentional in spiritual growth; we are generous in serving; and we place hospitality as an essential value to be lived out in the church community. We invite you to join us as we strive to exist, not for ourselves, but to love Jesus Christ, and to make Christ's love known.
To learn more about us, click on the particular topic below.
THE SEAL OF THE PRESBYTERIAN CHURCH (USA)
---
A NEW BOOK RECOUNTS THE HISTORY OF FIRST PRESBYTERIAN CHURCH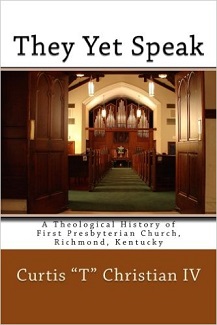 First Presbyterian Church set out to write the church's history, but soon realized that the story could not be told without telling it in the context of the denomination's history in Madison County and the Bluegrass region. The result is this book titled They Yet Speak: A Theological History of First Presbyterian Church, Richmond, Kentucky. It spans the history of Presbyterianism in the Bluegrass region from 1783 to 2006. The church's history intersects with the broader history of the community and region at several points. Presbyterians built the first church building within the city of Richmond. Three U.S. congressmen (one of whom was Speaker of the House); one U.S. senator; and a two-term governor of Kentucky called First Presbyterian their home church. Political and ecclesiastical issues created a schism among presbyterians and gave rise to the Second Presbyterian Church in Richmond. First Presbyterian's relationship with Second Presbyterian and with White's Memorial Presbyterian (north of Berea) are examined. The church's role in the 1874 formation of Central University, the forerunner of Eastern Kentucky University, also is covered. The effects of World Wars I and II, and the church's role in the turbulent 1960s are recounted. Special attention is given to the Kennedy assassination; the civil rights movement (including Martin Luther King, Jr.'s 1964 march on Frankfort; the Cold War; the Vietnam War; and the space race. The book is available in Paperback and Kindle versions through Amazon.com.